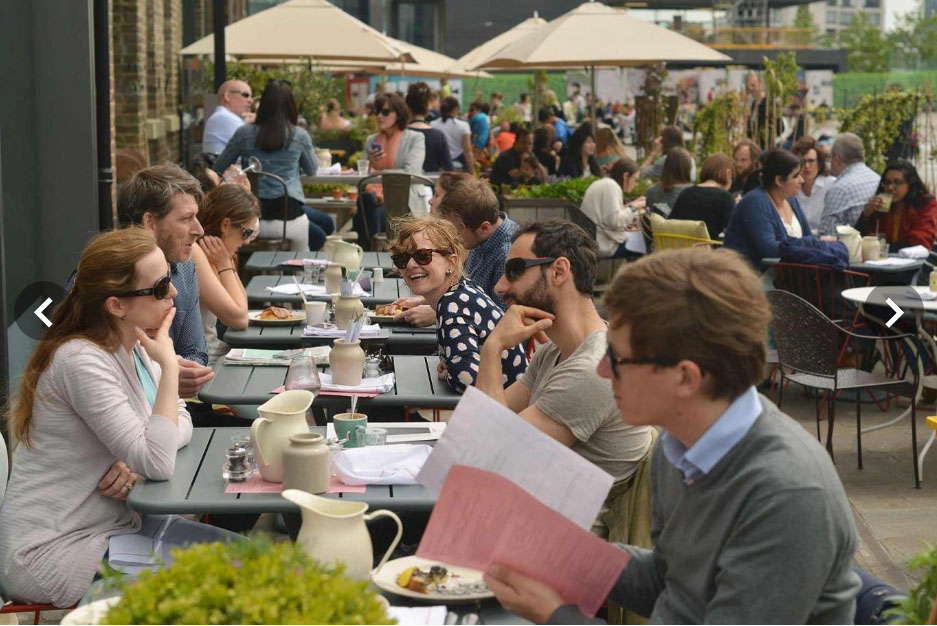 An independent coffee shop — complete with an earnest barista explaining the difference between Guatemalan washed and artisanal blends from Sumatra — is the modern marker of a London area on the up.

A new study shines a spotlight on London's Coffee Shop Top 20, revealing the hotspots where coffee shop numbers have burgeoned in the last three years.

A third are in south-east London, while south-west and west London can only muster three entries together — Streatham, Acton, and Chiswick, which sit at the bottom of the league table.

The chart also reveals the areas with the largest proportion of independent shops overall. The results might just be the key to bagging a property with profit potential.

"People actively don't want a boring chain store high street," says buying agent Rachel Thompson, director of Stirling Private Office. "When they can see good-quality cafés and shops moving in, it gives a vote of confidence to a whole area. It also says something about the demographic of an area and most people want to live close to like-minded people."

AND THE GOLD CUP GOES TO…

The café culture study, by Hamptons International, finds King's Cross comes out top, with a 43 per cent increase in the number of coffee shops since 2013, when this regeneration zone was still in its infancy.

Beyond King's Cross, the trend is at its height in south-east London. Sydenham, Herne Hill and Lewisham have all seen the number of coffee shops increase by about a third in three years, and most are independents rather than soulless chains.

These areas are also notable for the dominance of independent shops of all kinds. Three quarters of shops in Herne Hill — and all its coffee shops, new and old — are independent, and its appeal is boosted by great transport links, with nine-minute trains to Victoria and 11 minutes to Blackfriars, and proximity to Brockwell Park.

Wendy Peterman, owner of Petermans estate agents, says: "We have got a fantastic independent butcher, some new bakers, a lot of shops that are slightly 'artisan', an organic market at the weekend, and of course coffee shops. I have been here 13 years and the whole area has just become so much more vibrant."

THE BUZZ ABOUT SOUTH-EAST LONDON

Part of the reason for this vibrancy is new buyers moving into the area from more expensive Brixton, attracted not only by the shops but by the quality schools.

The average price of a two-bedroom flat in a Victorian or Edwardian conversion is about £450,000 but prices jump for a house east of Herne Hill, within the catchment area of its most sought-after schools.

An average three-bedroom house in the catchment area for The Charter School or Judith Kerr Primary School would cost about £900,000.

MORE CAFÉ BOOM TOWNS

There is better value to be found in Lewisham, another coffee shop boom town, where an average property costs £410,000, about half the price of Herne Hill, and in Sydenham, where the average price is £450,000.

Top five commuter hotspots with journeys under 35 minutes to London

Colin Griffiths, manager of Hunters estate agents, has noticed the change in Sydenham Road where bars and delis are slowly replacing takeaways and pound shops.

"There are definitely more coffee shops because different people are moving in: younger and possibly more affluent. Sydenham is one of the cheaper places to buy in London. It is a bit untapped but easy for the city."

A two-bedroom Victorian conversion in Sydenham would cost about £475,000, while a three-bedroom terrace house would be £600,000-plus.

LOOKING NORTH AND EAST

Leafy north London contributes only two locations to the Top 20 — Highbury and Finsbury Park, both areas of relative good value with average prices of just under £750,000 and almost £585,000 respectively.

East London's entries are regeneration zones Bow and Canning Town, as well as the Barbican — although the latter's relatively small number of retail units means one or two new shops can equal a hefty percentage increase.

Interestingly, some far-flung suburbs are performing strongly, coffee shop-wise, as young professional home buyers are pushed further out of Zones 2 and 3.

Pinner, in north-west London, has seen the number of coffee shops boom by 22 per cent as a new breed of buyers is drawn to good schools and a family semi for an average £606,369.

Regeneration zone Barking and leafy Teddington also performed strongly, with coffee shops up 18 per cent. An average property in Barking costs less than £285,000, while in Teddington the figure is £750,000.

Plans to extend the Gospel Oak to Barking line will give a direct train link for the 10,000-home Barking Riverside scheme.