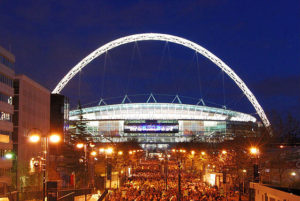 Less than half an hour out of Central London, Wembley has grown from a small town outside London to an extension of the city itself. The stadiums, Outlet Village, variety of restaurants and hotels and the ease of accessibility from outside London mean that the area is always a constant hub of activity.

Another great thing about living in Wembley is the property prices and location. Sat outside of Central London, you can get more for your money, with the bonus of being well-connected enough to get out of London pretty quickly too.

Facts about Wembey ?Dating back to 1547, there were only six houses in Wembley and though it was small, it was one of the wealthiest parts of Harrow. ?The X Factor and Britain's Got Talent are filmed here at Fountain Studios. ?The arch over Wembley is so big that a Eurostar train could fit inside it. ?Regeneration promises there will be 5000 new flats over the next ten years too – so if you're after a New Build, this may be the area for you. ?The big screens in Wembley Stadium are made up of 600 domestic televisions!